The Trekking tours in Minami-alps Mountains.
Reiwa 2 Minami Alps Municipal Mountain Hut Management]
(For measures to prevent the spread of COVID-19)
・ Scheduled to start from July 23 (subject to change depending on the situation)
・ Applicable mountain huts: "Kitadake Sanso", "Hirogawara Sanso", "Shirane Oike Hut", "Choei Hut", "Ryomata Hut"
・ As a general rule, there is no resident manager before business starts.
・ For other mountain huts in the Southern Alps, please contact each mountain hut directly.
・ Minami Alps City HP ⇒ https://www.city.minami-alps.yamanashi.jp/docs/7907.html

Our first trekking tour "Kitadake-Manodake Trekking Tour" scheduled for July 1st to 3rd is unfortunately canceled.

We would like to ask each of you for your understanding and cooperation so that this situation may converge.

We are currently conducting telework.
Contact us for the time being so that we can respond to inquiries from customers immediately, we have changed to a [080-6775-7012] mobile phone, so please use the above phone number when contacting us.
For inquiries via the website or e-mail, we will respond as usual.
Minami Alps Gateway Co., Ltd.
All the staff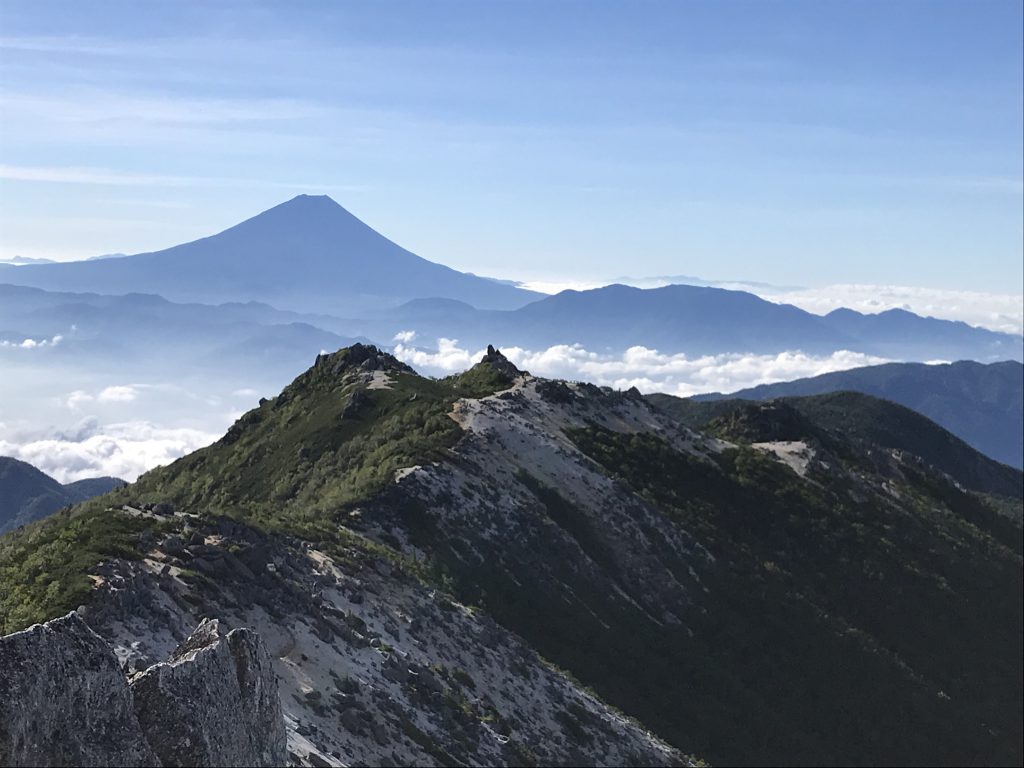 【Dear guests,】
We propose you an impressive experience of
"Mountaining tour in Minami-alps" (south-alps in Japan) for 2 or 3 days,
in Yamanashi prefecture, Japan.
You can choose;
【Alps Trekking Tour 2020】
[About the tour]
We will decide the departure of the tour until 14 days before according to the number of participants, and will contact back you soon. If you receive our decision, please pay the tour fee in 3 days (10 days before the travel start date) by your credit card.
In other hand, if we do not get the minimum participants, we will decide to cancel the tour and contact you soon too.
After the decision of the tour, if the guide determines that the tour is not possible due to bad weather, etc. the tour will be cancelled. In this case, we will contact you 3 days in advance. (It may be the day before depending on the condition of the forest road.) If we cancel the tour as reason of bad weather conditions etc., we will pay back you 100% of the tour fee.
If you cancel the tour due to your reason after your payment, you have to pay the cancel fee according to Japanese law.
The cost to come to the meeting place and to return home should be paid by you.
After completing the application, please make a reservation for the transportation to the meeting / to your home from dismissing place, such as railway seats.
If the tour is canceled, the customer will be responsible for any costs required for refunds for services not included in the tour fee (accommodation / transportation, etc. arranged by the customer).
For other matters not described in this paper, please check the transaction conditions manual, our standard travel agreement, and contract documents.
*Travel conditions reference date: Based on fares and charges as of March 1, 2019. If there is a change, we will contact you.
[Preparations]
Required equipment
Before applying for the tour, please check that you can bring the following equipment.
Outer layer / Middle layer / Base layer / Climbing shoes / Backpack for climbing / Gloves / Hat / Rain gear / Stock / Headlight / Backpacking food (cookies, candy, etc.) / Drink / Household medicine / Towels / Changing clothes / Warmwear / Passport.
A climbing behavior itself is a customer's self-responsibility.
When you apply for the tour, please inform that you will participate in the tour to the person who can contact you, such as an absence family.
If you are in bad physical condition during the tour, please inform it to the guide or leader.
The planned climbing course and walking time are subject to change in accordance with Article 13 of the Standard Travel Service Agreement.
Please observe the rules and manners at resting places and mountain huts, etc. and take care not to disturb other climbers.
To protect the environment, please take your garbage during the tour.
Please join us after training enough according to the difficulty of each mountain tour.
The guide ratio (leader ratio) is based on the rules of the Japan Mountain Guide Association.
[Attention on the day of departure]
Please make sure that you have the necessary equipment.
Please come to the meeting place on time.
If you are late for more than 10 minutes meeting time or due to insufficient equipment, you may not be able to participate.
[Others]
We accept the "Original tour by your order" from 2 persons. Don't hesitate contact us.
[How to reserve]
The application deadline is 14 days before the trip start date for both day trips and accommodation tours. Please contact us at least 15 days before starting day, by E-mail or Fax as below.
E-mail: minami-alps@oriconsul.com
FAX : +81-3-6311-7563
We will ask you several questions to make your reservations and to confirm your experiences of moutaining. If you don't have any experiences, we may not accept your participation.